Free Virtual Keyboard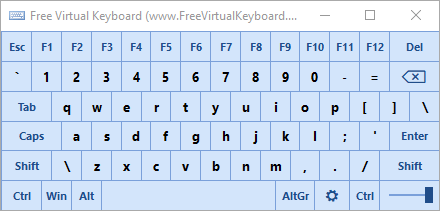 A free, lightweight, multilingual, and finger-friendly virtual on-screen keyboard
If you spend a lot of time responding to e-mail or jotting down notes on your mobile computer and find your hardware keyboard awkward or too small, a screen software keyboard may be just the improvement you've been seeking. This handy keyboard has keys large enough to be typed with the fingertips.
Free Virtual Keyboard works on any Windows-based PC with a touchscreen (Surface Pro, Tablet PC, and Panel PC).
Also, Free Virtual Keyboard allows people with mobility impairments to type data by using a pointing device.
Change size, color, and transparency of keyboard on the computer screen
You can change the size, color, and transparency of the keyboard with one click at any time. In full-screen mode virtual keyboard automatically resizes to fit the width of the screen when invoked. This means it works in both landscape and portrait orientation, something other keyboard does not do.
Auto-repeat function
The autorepeat function (any key held down to repeat the same character continuously) is automatic. All relevant keys would auto-repeat when pressed continuously.
Run it from your portable USB flash drive
Free Virtual Keyboard is a totally portable application, meaning that you can put it on any USB stick and run it directly from there. In this way, your interactive keyboard will always be with you.
The settings are stored in the FreeVK.ini file located in the program installation folder. If it's impossible, settings are stored in the registry.